In addition to its wide variety of lifestyles in Charlotte communities, the Charlotte, NC area also boasts of many Museums, Parks and Historical Sites. Stowe Botanical Gardens has a Holiday display you and your family won't want to miss.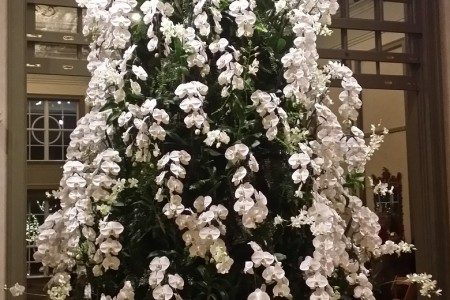 The Christmas-themed Orchid Tree is just one of many unexpected and lavish displays welcoming guests. Outside, the Visitor Center and grounds are glowing with lights. My favorite was the stand of tall oaks and pines decorated with bright lights they call "dripping icicles," but looked to me like falling stars. Another must-see is the walkway decorated with green and blue lights creating the effect of grapes on the vine hanging over your head.
Nestled in the heart of the lush Stowe grounds is the Lost Hollow for children. Families can gather around an open fire pit and roast mashmallows to make s'mores. Food trucks take turns each night offering a variety of fresh-cooked options. And did I mention the two wine and beer bars for harried adults?
While the architecture of the Visitor's Center is modern, and many of the lighting displays are high-tech, there's no slighting of the traditional. A quartet of barbershop singers, all decked out in Dickensian costumes, performs old favorites as well as a some newer holiday songs. And if you're really in the mood for an old-fashioned holiday treat, there are horse-drawn carriage tours of the spacious grounds.
Whether Christmas or any other time of the year, you'll see that with so much to see and do in and around Charlotte, it's little wonder it's such a desirable destination.