The Steele Creek Community is a cluster of Charlotte neighborhoods that looks great from any perspective. On the map, you can't help but notice that this burgeoning area in southwest Charlotte borders Lake Wylie, one of North Carolina's largest lakeside communities. Equally prominent is the McDowell Nature Preserve, a sprawling park offering hiking trails, canoeing, and fishing.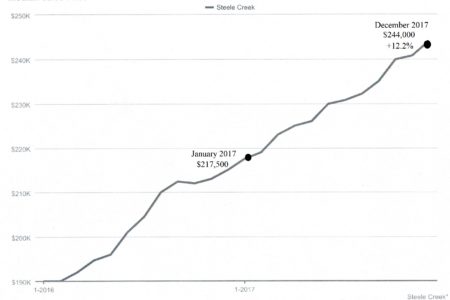 Steele Creek offers numerous dining, entertainment, and hotel options to explore. Thousands of new apartments, townhouses, and single-family homes stretch out along Steele Creek Road, South Tryon Street, and Shopton Road. Ayrsley Town Center on South Tryon is a mixed-use development including Steele Creek's own bustling business district as well as upscale apartment communities, award-winning restaurants, shopping, hotels, numerous bars, and a 14-screen movie complex. The Topgolf entertainment complex, located just off Arrowood Road, features a golfing range and an in-house bar and grill.
Little wonder that demand for housing is growing here. The median sales price of the homes in Steele Creek increased from January, 2017 to December, 2017 from $217,500 to $244,000. That's a growth rate of 12.2%.
This section of Charlotte hasn't always enjoyed this level of popularity. In the past, Steele Creek was dominated by farmland. A proposed hazardous waste incinerator inspired residents to organize the Steele Creek Residents Association, which sued to stop the project, and later reorganized to include Land Use and Planning committees to block future threats and preserve the area's quality of life. In 2003, the residents established a network of nature trails throughout the community.
The neighborhood's advocacy of planned, "green" growth has certainly added to its appeal. The Palisades golf course community has incorporated environmental goals into its long-range plans, earning certification into the Audobon International Gold Signature Program. Another major development, the Sanctuary, has set aside 300 acres of untouched meadows among its restricted-use lots. It's easy to understand the pride Steele Creek residents have for their community. Karl Froelich, the president of the Residents Association, called it "a hidden gem" back in 2016.
With its determination to grow while maintaining environmental standards, its proximity to both Lake Wylie and the Charlotte-Douglas airport, as well as quick access to Charlotte's uptown via the 485 outer loop, it's no surprise that once-quiet Steele Creek is now Mecklenburg County's fastest-growing area.