Grove Park Homes – The Camaraderie of Neighbors
The neighbors of Grove Park homes and nearby Ravenwood homes will host their 2015 Garden and Art Tour on Sunday, May 17th, from 1-5 PM. The tour will include an Art Stop in Triangle Art Park featuring arts and crafts for display and for sale, as well as a Plant Sale, with proceeds to benefit various Garden Club projects.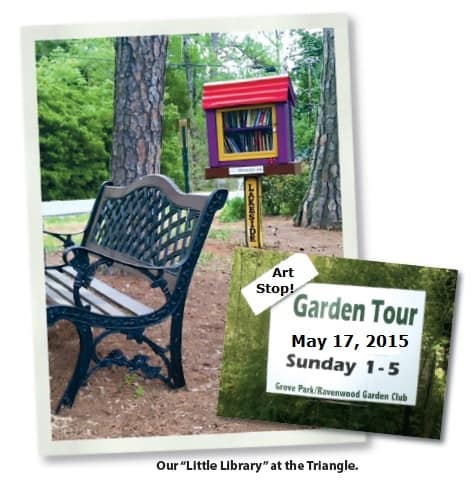 The Garden and Art Tour is just one of the regular events put on by a community that prides itself on its friendliness and inclusiveness. No wonder many of the residents have made their homes in Grove Park for decades. Residents feel comfortable and safe here, and for good reason. In addition to its Neighborhood Watch Program, there's a robust Neighborhood Association with excellent leadership as well as widespread community support. The Grove Park Neighborhood Association's meetings are well-attended, and its success stories include numerous beautification projects, zoning improvements, and public art projects.
Typical comments from residents include:
"I especially like the lakes, the quiet scenic surroundings, and the camaraderie of neighbors as I take my morning walks."
"I grew up in Grove Park and came back to live here as an adult. I still love this place, with its big lots, wooded areas, lakes, and big, beautiful trees."
"Grove Park is a beautiful and safe place to raise a family. It has an environment filled with natural beauty, yet is very convenient to the city."
Grove Park was first developed in the 1950s, and now numbers nearly 500 charming Grove Park homes. It quickly became popular among those seeking a pastoral setting just a short drive from major roads and urban centers. Grove Park residents enjoy well-built homes, large wooded lots, and several small lakes that make this neighborhood unique. Find the Grove Park homes for sale below.
Grove Park Homes For Sale
Listings 1 - 2 of 2

7222 Linda Lake Drive
-- 4 BR, 3 BA
Price: $429,900
(2155 sqft)
Subdivision: Grove Park→ More info
EXP Realty LLC | MLS # 4071157 | Active

6720 Linda Lake Drive
-- 3 BR, 2 BA
Price: $359,900
(1850 sqft)
Subdivision: Grove Park→ More info
Ram Realty LLC | MLS # 4063060 | Active
Listings 1 - 2 of 2